Virtual Directories allow you to connect virtual directories to physical directories. Additionally, you can also make use of UNC paths or mapped drives to create virtual directories. Event Manager Utilize the event manager to run Lua script to send an email alert or run a third-party application.
Wing FTP Server
Wing FTP Server is an easy-to-use powerful, fast, and cost-free FTP server software that is compatible with Windows, Linux, Mac OS, and Solaris. It supports a variety of protocols for file transfer, such as FTP and FTPS as well as HTTP, HTTPS, and SFTP which gives your clients the flexibility to choose ways to connect with the server. It also provides administrators with access to a web-based interface that allows them to manage the server from any place.
Wing FTP Server Features
It is also possible to monitor the server's performance as well as online sessions. You can also get email notifications of various happenings in the system. Another security flaw that was discovered in the storage is that is not protected for admin credentials of the application. Weblink and Upload link Upload files or share files by using a web link. After that, anyone can send or download files without access to log in. You can enable the Admin Log and server Log and Domain Log and any of the logs. IOS and Android Application This Android application for iOS or Android helps mobile phone users move and control remote FTP files with ease. Web Administration Using the web browser, you are able to manage the server from any location, at any time.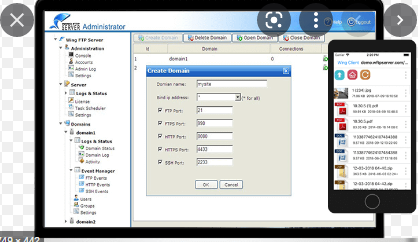 Different Protocols Work with FTP, FTPS, SFTP, and HTTP/S, a web-based client. For plugin enablement information, see Enable Plugins. Log in for access to Wing FTP Server Administration using the web browser. Here is the remote command execution PoC using the Lua console. This will give you reverse shells on the machine you want to target.
Wing FTP Server System Requirements
Memory (RAM): 512 MB of RAM required.
Operating System: Windows 7/8/8.1/10.
Processor: Intel Dual Core processor or later.
Hard Disk Space: 50 MB of free space required.