Mavis Beacon Free is a typing tutor program that improves overall typing efficiency through detailed assessments, skill-building games, and personalized lessons. Users will experience an improvement in typing speed and accuracy upon completion of the program's step-by-step guide.
Mavis Beacon Free is a well-known and widely used free typing tutor. Its step-by-step guide is designed to help users learn how to type quickly and accurately. Although it may not be as comprehensive as other typing tutors, it is effective and its latest version is compatible with the latest technology and all Windows operating systems, including Windows 10.
After downloading the program, users will go through a comprehensive assessment of their current typing skills. Based on the results, the program will customize its lessons to the user's level. Utilizing adaptive technology, the program will place users in exercises that match their skill level, and as they progress, the tasks will become more challenging to maximize improvement.
What are the features and functionalities of the app?
The program offers 430 personalized lessons, exercises, and tasks. Users can select their practice area from passages and sessions from literary classics, poetry, and historical autobiographies. Additionally, users can play one of the 16 skill-building arcade-style games to improve speed, rhythm, accuracy, or all three.
The program also allows users to select a background music while practicing. It comes with a library of music and also allows users to import their own MP3 files. After each lesson, users will receive a detailed report that shows their strengths and weaknesses, as well as their progress over time.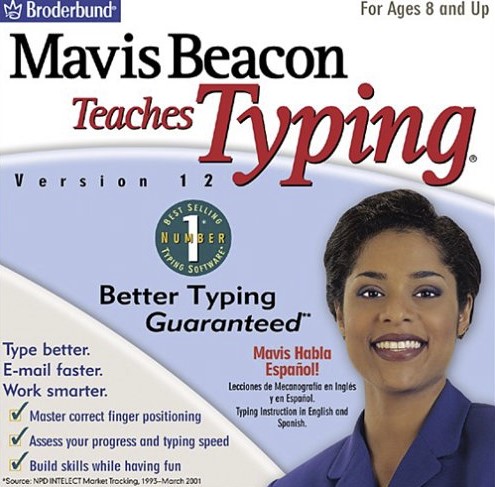 Mavis Beacon Free is an interactive and multimedia-rich typing tutor app that can help even beginners improve their typing skills. Its interface is designed as a classroom and users can select tasks by clicking on various objects. In addition to drills and lessons, the app also includes videos and written advice on proper typing posture. Furthermore, it supports multiple languages including English, French, and Spanish.
However, before deciding to use the program, there are a few downsides to consider. Firstly, the installer is large and the setup process can be slow. Additionally, the program is quite resource-intensive and may run slowly on some systems. Lastly, the option to run the program in full-screen mode is no longer available on newer operating systems.
Is it recommended to download Mavis Beacon Free?
If you're a beginner looking for an accessible way to learn and improve your typing skills, or if you're looking to increase your typing speed and accuracy, then Mavis Beacon Free is a good option to consider. The program provides personalized typing lessons, skill-building games, and detailed progress reports to help users improve their typing.
The program also allows users to listen to music while practicing by allowing them to upload their own music tracks. Additionally, it uses adaptive technology to adjust lessons and tests to the user's current skill level as they improve their keyboarding skills.
Effective tool for learning typing
Mavis Beacon Free is an essential tool for anyone looking to improve their keyboarding skills or overall typing efficiency. The program offers valuable practice tools and constructive feedback to help users progress in their typing abilities. Additionally, it includes a variety of fun games to break up the repetition of lessons and drills. Overall, this software is highly recommended for download.
Pros
Tailored lessons and exercises to match user skill level
Skill-building arcade-style games
Compatible with all Windows operating systems
Upgraded features and modern technology
Cons
Full-screen mode is not available
Setup process is slow
High resource usage
Less comprehensive than other free typing tutors.