This program from DSploit will assist you to replace the images and videos of the website your victim is visiting. This tool will allow you to change the text on the site that your victim is looking at. DSploit is a network penetration tool for Android that lets you search networks for devices and identify their operating system, execute services, and open ports on every device. You can also use it to find vulnerabilities within your network, and also perform "man at the center" operations. To carry out these actions, dSploit offers a Wi-Fi scanning feature that searches for keys and other models supported. You now know a lot about dSploit APK the most recent version, and now it's time to offer you the download links for dSploit on Android. Get More Softwares From Getintopc
Dsploit
The application should not use for a purpose other than to show its capabilities, and should only be employed on networks on which you are authorized to use it. Any other user does not fall under the control of the developer. In other terms, please don't be naive and don't direct angered people to me. Additionally, DSploit is a cost-free and open-source software and it's possible to work together and keep track of the progress of this application through the Github page. With the help of a password sniffer from DSploit, you can detect the passwords of various protocols like IRC, HTTP, FTP, and others. This feature in DSploit .apk will embed script code in all web pages that are visited by the victim, thereby making it run on autopilot prior to the user being able to access the internet.
Dsploit Features
To accomplish this, you need to indicate the word you wish to search for and then substitute the text. This means that a legitimate program is incorrectly classified as malicious due to an excessively broad detection signature or algorithm that is used in antivirus software. We do not advocate or endorse any use of this software that is in contravention of the laws. We mentioned previously that the app must be downloaded externally, which means it will be necessary to manually install it to your Android devices, just like LuluBox APK available for Android. This is a dSploit root APK which means you don't need the root privileges on your Android device prior to installing it. If you've downloaded an APK file prior to installing it using Android then follow the same steps to install this file as well or learn the steps to install it for the link to download.
the plot has a broad range of tools designed for IT and security professionals to conduct security audits of networks from their mobile phones. In the initial version you'll be able to trace your network, monitor hosts' operating systems, search for weaknesses and crack logon processes of TCP protocols and real-time traffic manipulation, and much more. DSploit is an application that includes everything you need to guarantee the complete protection of the mobile phone. Additionally, it will scan each network that the device is connected to using its Android platform.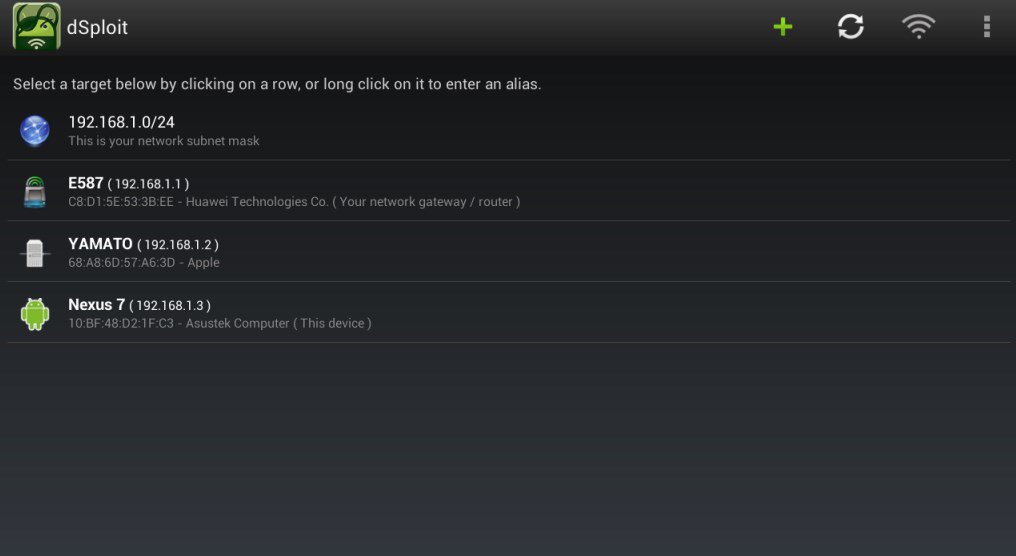 At present, there aren't many apps that are compatible with Android that is possible to safeguard your smartphone from various threats. As you may have guessed that your smartphone is always susceptible to viruses, and is also prone to being a naive user of traffic. It also has a number of vulnerabilities that never let you miss an opportunity to be a victim of fraudsters. If you install dSploit, this issue is solved completely, since it can analyze the phone's security for weaknesses and vulnerabilities.
Be cautious when downloading these apps since they may contain malware or viruses to affect your device. DSploit is the most comprehensive and modern IT security toolkit for professionals on Android. If you're looking for the download link for free DSploit APK then you're at the right location.
If you have any issues with this tool, please leave a comment below. It's all one program, so there is no requirement to download any other application to conduct penetration tests. It can identify passwords from a variety of protocols such as HTTP, FTP, and IMAP and will allow you to execute the traceroute you want to take to your destination. The inspector tool in turn will scan and determine the operating system as well as its functions. This application DSploit .apk will detect the operating system that you want to target and provide you with information about the services running and open ports on the system you want to target. There isn't a dSploit official website available on the internet, so be cautious of fraudulent websites that claim to offer it.
How to Get Dsploit for Free
Also, it will tell you whether your devices are vulnerable access points, and also know the possibility of stealing the passwords of Facebook, Twitter, or other services. In general, these are the functions and a brief description of the DSploit APK. DSploit .apk is available for download. DSploit is among the most effective and robust applications for the analysis of networks and penetration tests. It is compatible with Android (2.3and up) devices that have root rights. The source code for DSploit is freely available on GitHub and is an excellent tool for security professionals or for anyone who is interested in security on networks, hacking, and penetration tests.
Apart from that it also has the ability to carry out scans and mapping of networks and ports as well, which is incredibly crucial. DSploit offers an Android network analysis and penetration suite that is designed to provide IT, security experts and geeks, with the most complete and sophisticated professional toolkit that can conduct security assessments on network security on mobile devices.
DSploit can be described as Android network analysis and penetration suite that will provide IT security professionals/experts the most advanced and comprehensive professional tools to conduct assessments of security on networks using the go with a mobile device. This application allows us to examine the wireless network, carrying out an entire mapping process to identify vulnerabilities capable of detecting all devices that are part of it and capable of intercepting their communications in real-time.
So, this article is about the dSploit APK 2019, and we hope that you are capable of downloading the latest version of APK on this page. There are numerous apps similar to dSploit that are available on the internet, however, they are not always secure to use.
There are a variety of features available that are available in this application, such as finding vulnerabilities in the vulnerability database of the nation that have been proven to be a threat to devices. Through this feature, it is easy to determine the places that your network is susceptible to attacks and then tackle them to protect your network from unauthorized users. This feature lets users identify open ports on their devices, allowing you to secure them, or remove them from the network since they could be susceptible to hacking attacks against networks.
With dSploit APK you can perform a variety of tasks like security vulnerability identification tracer of networks, password scans, and many more. All Android devices are able to download this at no cost, but it will require a significant amount of storage space and root. Other requirements include access control to information on Wi-Fi networks and networks and WiFi connectivity state, and so on. In this article, we'll provide all the details about dSploit on Android and provide the download links for the diplomat's updated version, as well.
Dsploit System Requirements
Operating System: Windows 7/8/8.1/10.
Memory (RAM): 512 MB of RAM required.
Hard Disk Space: 30 MB of free space required.
Processor: Intel Dual Core processor or later.