It's really irritating because it is unable to allow you to do what you would like to do with the program on your personal computer. There are many Kon Boot alternatives on the market. But they may not all be as effective as you'd like they should, which can lead to disappointments. In this guide, we're going to look at the issues you may encounter when using Kon Boot and what alternatives to consider when Kon Boot doesn't work for you. It is able to create an entirely new administrator account without a password. Offline NT Password and the Registry Editor welcome menu appear on the screen once your computer restarts. Get More Softwares From Getintopc
Kon-Boot
Do not worry, both work exactly the same thing, so it doesn't matter what you select. As a default, the next option is an option to reset your password. Press the Enter to proceed. The next choice will be to edit user information and password, which is selected by default, so just click Enter. Online NT Password Recovery Tool is quite different from the other Windows tool for recovering passwords. You can boot your computer that is locked using this Boot Media Drive. Select the installation you have chosen for Windows and then select reset your password and proceed to the next step.
Kon-Boot Features
In summary, Kon Boot, the free tool, comes to the rescue in the event that other tools for resetting passwords fail. In the end, what does is alter the substance of the Windows kernel by booting. Therefore, even the ISO image size is tiny in comparison to other programs that offer identical services. The Kon Boot alternative for password reset is incredibly simple to use and will get the task completed. Kon Boot was an excellent program to assist you in resetting passwords on your computers.
Once the operation is complete and action is completed, you'll get the Edit Complete option on the screen, which means that you've successfully changed to the Windows password. Visit the Offline NT Password & Registry Editor's official website, and scroll down to find the items that are available for download.
Then you can click "Reboot" to reboot your system and then log in to your Windows system using your new username. With all the issues Kon Boot comes with, it's not worth it to use it to reset your passwords.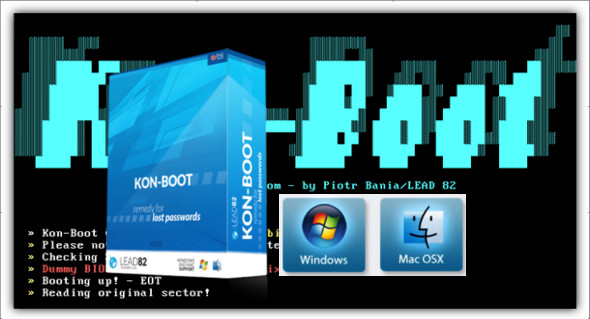 If you have any queries about this post You can leave a comment below. I'm sure that you will find this site very useful. We thank you for stopping by the most helpful getintopc site. Quickly erase or reset Windows passwords in simple steps. Like we said before, Kon Boot has been an excellent tool, but it's recently been causing problems. People have been unhappy with Kon Boot lately, so we thought of compiling an inventory of all the problems that you may confront with the tool. The account you are using does not contain enough Karma to make a post on this site.
Changes the content of the Windows kernel by the process of booting. It does not erase the password, and the entire procedure is done in a quiet manner.
If you're an inexperienced user and do not have any experience with commands, you should not use this program and test tool. Windows software for recovering passwords. Kon-Boot 2in1 v2.7 is a completely compressed installation that can be downloaded from a direct link. get into PC is a standalone, fully offline setup that is available to download from our website.
How to Get Kon-Boot for Free
Many antivirus programs recognize the program as a virus due to the fact that it has a feature that allows you to bypass passwords to your PC. This is why it is necessary to turn off antivirus prior to running Kon Boot. Deleting antivirus could allow other malware to infiltrate your computer simultaneously as you use Kon Boot. The opposite is recommended if you take care of the files on your PC.
Click"Reboot" or click on the "Reboot" option to verify and observe the changes. The behavior of Kon Boot in conjunction with your computer's BIOS could trigger your antivirus to recognize it as an infection that causes boot.
Also, be aware you can recover passwords for specific applications such as WinRAR documents, you need to download WinRAR's password recovery. All you have to do is download the no-cost ISO file and then burn it onto the CD. Kon Boot is a tool for password recovery that can perform this kind of password recovery very quickly.
Luckily, you don't have to suffer from this issue. There is a better alternative that is known as Windows Password Recovery.
Due to the tendency of r/HowToHack to be a magnet for spam and poor quality posts the moderators have introduced the mandatory Karma rule. You can earn Karma by commenting or posting to other forums. While you wait humans will look over your post and accept it if the content is outstanding. Once you have earned enough Karma You can then make another submission, and it will be approved automatically.
Kon-Boot System Requirements
Operating System: Windows XP/Vista/7/8
Memory (RAM): 256MB of RAM required.
Hard Disk Space: 100MB of free space required.
Processor: Intel Pentium III or later.