Fixed problem with website field appearing in two places in Field Mapping. Fixed problem that was causing issues with Contact Photo compares logic causing a crash when synchronizing contacts. Manual OAuth added for Calendar Attachment sync configuration in conjunction with Google. Corrected DPC issue that was causing Calendar Refresh causing the calendar to appear blank when synchronizing. Fixed issue with attachments that were not synchronizing when you do a Reread of Outlook.
CompanionLink
Corrected an issue in which a regular error in Google could be replicated whenever synced with Outlook. Fix an issue in which Reread options were not accessible to USB syncs. Other issues were resolved with Google sync as a result of a recent update to Google's API. Problem with phone numbers doubles in Extension fields in Act!.
Fixed issue with certain Palm Desktop Category colors syncing incorrectly to DPC. Fix issue when changing the records in "unowned" in DejaOffice PC CRM Pro Multi-User Mode. Fixed timezone issue that was causing instances in Jerusalem timezone that syncs an hour later. Web Premium is able to duplicate historical entries in Google. The fixing problem that caused USB sync that was not able to add records to the PC. Fixing an issue that could allow the sync of users who are not users DPC (DPC-CL fix). The issue was fixed when altering Auto Sync settings with multiple profiles.
Fixed problem that caused the Umlaut character in DejaCloud passwords that prevented sync. Fix issue with Google Event Colors that sync with DPC in Grey. Problem with syncing the To-Do list in Outlook which could trigger a crash.
CompanionLink Features
Fixed issue that could stop Email Histories the sync in Outlook not being connected in DPC Contacts (DPC\CL Fix). Fixed problem with the Country in address fields that were not synchronizing into Google Contact Country field. Fixed problem with the last Sync timing not updating after pressing "Ok" in DejaOffice before USB sync is completed. Fixed problem that was causing User Fields syncing to Notes in the absence of a note setting. Fixed issue where timestamps were not always added to the contact note when syncing with ACT!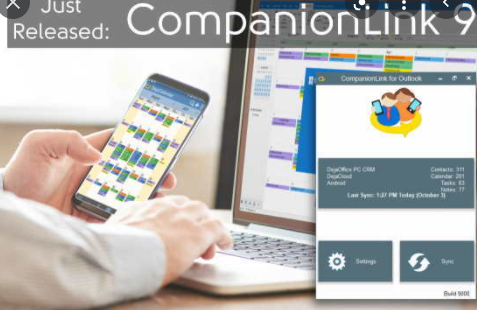 Fixed an issue with the display of the field mapping options which were not present. Fixes an issue with descriptions of calendar events not sync correctly to Google Calendar to Time & Chaos. Fixed issues related to dedupe in contact prefixes and suffixes and also the ability to sync all-day events using wifi. Fixes issue of sync of multiple devices using USB by using profiles. Fixed issue when the ability to delete many events in Outlook and bouncing back the records in sync using Google.
How to get CompanionLink Free
Updated support for syncing of to Google the "Work Elsewhere" status from Outlook 2013. A problem was fixed where the syncing of a brand new person to Google could sometimes result in an unneeded category. Fix an issue that sometimes Outlook events would not have reminders following sync using DejaOffice on Windows Phone 8. Fixes an issue where not all calendar entries would be synced to Google. Fix issue where the sync to Google could cause errors 400 because of a recent change to Google's API. Problem fixed that was causing Infusionsoft to sync "Null" into notes fields in Outlook.
Fixes issue problem Palm Desktop name fields syncing in error to DPC. Add options to stop "Field Change" and "Deleted Record" historical items from synching. Fixes issue that was causing DejaOffice results for events that have been completed syncs to Act! Speed improvements for Bluetooth connections and auto-sync fix, and updates to error messages.
Fixed issue that sync would be unable to complete when you add certain categories of information for certain categories to T&C. Fixed mapping field issues in Android in the event of switching sync methods from CLSH into WiFi. Fixed issue in which the calendar event and task in the future in the distant future weren't synchronizing.
Fixing issue where the address mapping might be lost in the event of changing the sync method in the wizard for setting up CL. Fixed issue with time zones for Outlook events that use Georgetown, La Paz, San Juan time zone. Problems with synchronizing specific recurring event dates to Google.
Fixed an issue in which some users would experience a 403 Error while syncing with Google. Fix an issue that caused a "Member Not Found" error that would occasionally occur when while synchronizing with Outlook. A problem was fixed where the use of several Google account syncs and the use of OAuth could cause a failure to sync. A problem was fixed where not all contacts sync using a DejaCloud connection. This was a problem wherein not all contacts could be able to sync Salesforce in Dejacloud. The issue was fixed when the ability to sync attendees was set as default when using Google syncs. Fixing an issue that occasionally contacts did not connect to Google into Palm Desktop.
You helped me navigate my issue with calm and professional competence. For someone who relies upon Outlook for a significant part of my work that includes my mobile phone, I require to be able to access up-to-date information. Thank you for the amazing customer support to help me get back to my feet.
CompanionLink System Requirements
Memory (RAM): 512 MB of RAM required.
Operating System: Windows 7/8/8.1/10.
Processor: Intel Dual Core processor or later.
Hard Disk Space: 100 MB of free space required.