If the download isn't starting immediately If you don't see the download start automatically, please click here. All In One Keylogger is the best Keylogger I've discovered. The All-In-One Keylogger will automatically uninstall itself when the date you choose will arrive. It can stop access to the websites that you specify (like Facebook.com …). To help reduce the size of your hard drive, it is possible to specify whether you would like to remove the logs that were sent to your HD. It is also possible to set that it is not listed within Windows Task Bar, System Tray MSConfig, Uninstall List (Add/Remove programs), and Start menu. Get More Softwares From Getintopc
All-In-One Keylogger
You are invited to check out our test results and our review. Like always, Relytec Team has fixed some minor glitches with All In One Keylogger. You can read more about the software on its review page. A new update for the All-In-One Keylogger 3.6 includes a couple of bugs that have been fixed. A brand new, updated version of All In One Keylogger 3.6 is available now on Keylogger.Org. For instance, you can ensure that your privacy is not compromised because the software secures your logs on a regular basis.
All-In-One Keylogger Features
We invite you to go through our review, purchase, or download the program using the buttons. All In One Keylogger 3.6 was recently updated. The latest build that is 3.6 version has some minor bugs that have been fixed. 3 Refog Personal Watch $39.00 A very functional and easy for you to set up a keylogger. This is useful when you're interested in the surveillance of your home or parental control. Although it appears simple when it comes to explicit features, All in One Keylogger is a top-quality product.
It permits you to stealthily observe all activities of every computer user and send logs to the desired accounting system for e-mail, FTP or LAN. The Keylogger software is Invisible Keylogger security, Keystrokes Recorder, Chat logger, Spy Software, Keylogging software that records every action on your computer in encrypted logs. Keylogger allows you to keep track of all activities from any computer user and then automatically get logs for the desired account on LAN, e-mail, or FTP. All In One Keylogger is an invisible keylogger program that tracks all activities of all users of computers. First of all, this piece of surveillance software is totally invisible.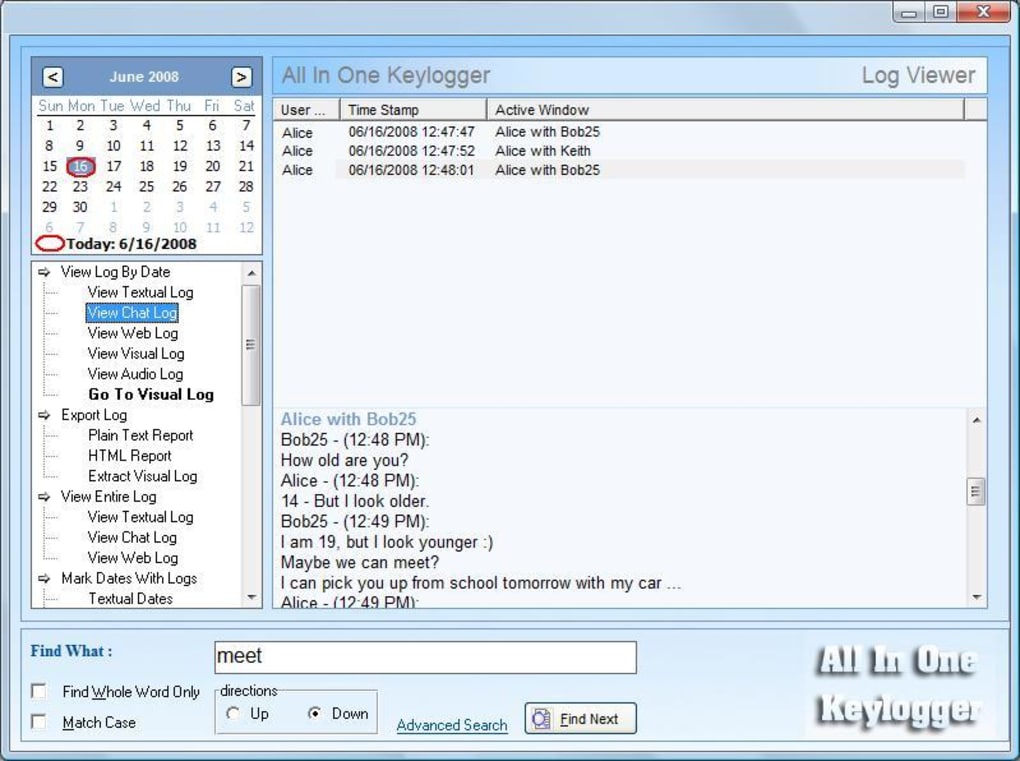 It is a bit buggy but has been that was fixed and is now available. A new version Of All in One Keylogger 3.6 includes improvements to its stability. A new version of All in One Keylogger is now compatible with Windows 8.1. In version 4.1, FTP delivery was enhanced, so from now on, it will now support TLS. This, along with the visual and keystroke record, allows you total control over your computer. Not to mention software allows you to block access to specific programs, block or block unwanted URLs and also select which accounts you want to keep track of or not. The rules for using this program differ between countries.
Additionally, you can benefit from the password security feature as well as the anti-spy engine. It's simple, fast, and secure, install All in One keylogger and get rid of the spyware within you. All in One Keylogger will stop user-defined, undesirable software.
(Keylogger copies the logs but only to the USB flash drive or External Hard Disk you have created (i.e. i.e. the 'adjusted USB Stick/External Hard Disk'). All In One Key logger automatically switches to hiding mode as soon as windows start.
Option to select Keylogger to only capture the current Window. Relytec is a top-quality company. Their support is exceptional and quick to respond. Every question is answered quickly and there isn't an automated response like is typical of other businesses. I purchased this fantastic program and, ever since I've been looking through the logs to prevent from getting in trouble. You can check out the test results of All In One Keylogger 3.1 here, as well as its evaluation here. Make sure to know that All In One Keylogger has been translated into 12 languages.
How to Get All-In-One Keylogger for Free
We do not recommend or approve of using this software if it's in violation of the laws. Softonic might earn the amount of a referral fee should you decide to purchase one of the products listed on this page. All log files you download are protected by encryption to protect your security. The All-In-One Keylogger will identify the names of printed documents that are transmitted directly to your default printer.
You can configure the All-In-One Keylogger to shut down the anti-keylogger program that is pre-defined. The Keylogger Software has a password security feature to stop other users from altering your configurations or accessing the log files. In contrast to other computer monitoring applications, All In One Keylogger can be employed for audio monitoring.
The keylogger I installed, Keystrokes Recorder, trialed and then installed the software to see what it could accomplish and then completely forgot about it. A new version of All In One Keylogger 3.5 was recently tested through our group. One of the most interesting features is it the All in One Keylogger can provide your logs in numerous ways. You can select either LAN, email, or FTP delivery, and even upload your logs automatically to any external drive when it is connected to your computer.
The All-In-One Keylogger is able to record images directly from your WebCam. Keystroke recording capabilities, coupled with audio, chat, web, and video recording, give you total control over the computer. The Log-Viewer Keylogger can be configured to mark only dates on the date that logs were entered. All In One Keylogger viewer lets you view logs by date and then make sure that the log is at a level.
The All-In-One Keylogger is an extremely sophisticated Log Viewer. Every every day, thousands of pedophiles search for children on the internet in order to build trust-based friendships which will eventually lead to face-to-face encounters. Our product is used or installed on a computer thought to be intended used for public use, or on which the person who owns the computer hasn't agreed to expressly.
It is soon apparent that with its advanced Log Viewer as well as other features for logging This is a program that is recommended for surveillance over all other purposes. Security is the main topic of the minds of many users in the present. For whatever reason, it is likely that you might be required to think about installing the keylogger feature on your device. It allows you to track every single keyboard input a user performs, which gives you the unbeatable capacity to keep track of devices and ensure their usage is safe.
All in One Keylogger keeps track of the chat conversation on both sides from ICQ, Yahoo Messenger, AIM, MSN, Miranda, QIP, and various other chat/IM software. A new version of All in One Keylogger lets you set warning messages and set a maximum log-file size. You can check the test results here, and read our full review here.